Guitars
When I was in high school I used to make guitars.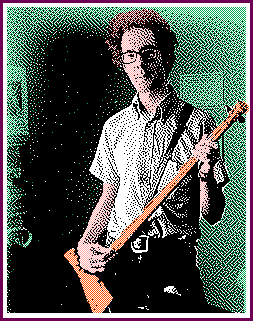 The Axe Bass
Made from a genuine ash axe handle in collaboration with famous bow maker Dave Orlin, this two-string electric bass featured a hand-wound pickup made from an exotic high strength magnet originally intended for aerospace applications. I played this instrument in the Cigarets, an Ann Arbor garage band from the 70s.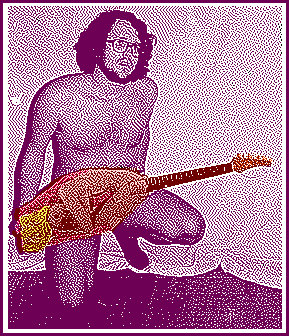 Mike appearing naked behind the Ladytar (1973)
My friend and fellow Cigaret Mike Mosher once challenged me to make a guitar out of a Playboy centerfold. The Ladytar features a two-piece laminated wood body with internal channels for wiring and electronics, resulting in an unbroken top on which the centerfold is glued.
These images from Mike Mosher's CD-ROM prototype "The Ann Arbor Psychedelic Scene of the 1970s".
Jim Rees