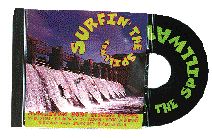 Surfing in Michigan? Sure, dude, these four local bands prove it.
Michigan's surf bands ride out big waves and bikinis on a new CD
POP MUSIC



Tom Long
Think guitars lost in reverb, think pounding tom-tom drums. Think dramatic melodies that move from spare lines to mad trilling, riding on backbeats and minor chords. Think big waves and small bikinis and 1962.
Think surf music.
Think ... Michigan?
Apparently so. On Saturday night four Michigan surf bands will celebrate the release of a new surf music compilation CD called Surfin' the Spillway (Happy Hour) with a show at the Magic Stick in Detroit. The Prodigals, the Silencers, the Volcanos and Mondo Mod are all practitioners of the modern, clean-but-dramatic surf sound that still rings through California's beach towns.
The question is - what are these bands doing in Michigan?
"There are a lot of people who grew up in Michigan and aren't even aware that this stuff is around," says Jim Rees, producer of Surfin'. "There have always been bands playing this music.
"There's not a whole lot of surfin' (in Michigan), but there's plenty of surf music," Rees says. "The music's out there in the bars, but there's not a whole lot on CD or record."
Surfin' rectifies that situation at least partially, with titles like "Twilight at Rincon," "Hotfoot," "Forbidden Planet" and "Ride the Savage Dolphin."
According to Rees, the seven bands included on the compilation range in age from those who may have heard Dick Dale the first time around to those who've had to search beneath the rubble of grunge and punk to discover the wonder of a well-played "Pipeline" run.
The album's title, of course, imagines the unlikely practice of catching what would surely be some of the hairiest rides in Michigan. Its cover even depicts three surfers plunging down the face of a river spillway.
A word of caution, kids. Enjoy the music, catch the show, but don't take the title literally. Even surfmeister Rees warns, "I don't recommend that you try it."
Music Preview
'Surfin' the Spillway'
CD release party
10 p.m.
Saturday
Magic Stick
4140 Woodward Ave.
Tickets $6
Call (313) 833-7005
Copyright © 1996, The Detroit News
We welcome your comments. Check NetMail for letters and responses