Tiki Bars
I love tiki bars. Here are a few that I've been to. Some of these have tikis but no tiki drinks, others have tiki drinks but no tikis. And some have both, making them "real" tiki bars. My favorite is the Mai-Kai.
Please read my license notice before copying my photos.
Michigan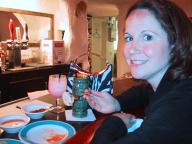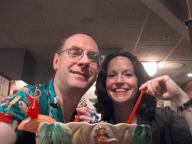 Sarah and me at Szechuan West (L) and Champion House (R) in Ann Arbor.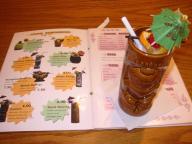 Exotic drinks at Gourmet Garden in Ann Arbor.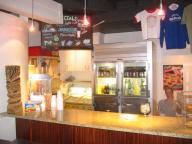 Pool bar at Weber's.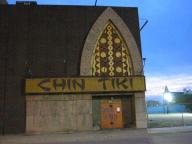 Chin Tiki, Detroit.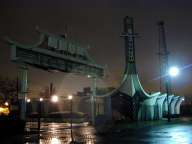 Former Stanley Hong's Mannia Cafe, Detroit. Now a church.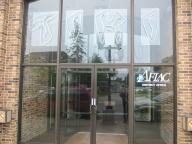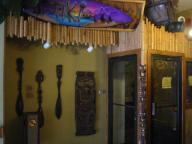 "Tiki Video Nightclub" at the Stearns Motor Inn, Ludington (don't bother visiting).
Florida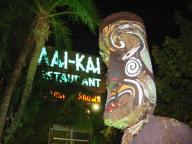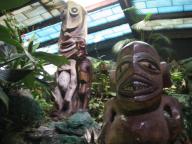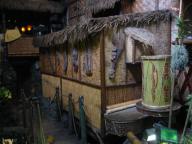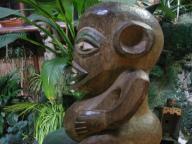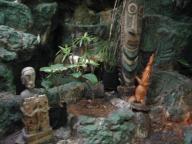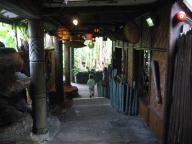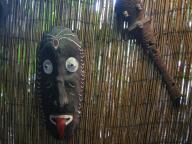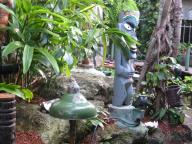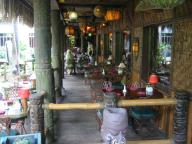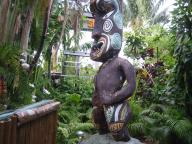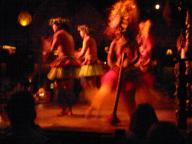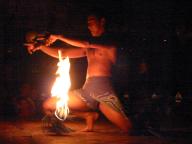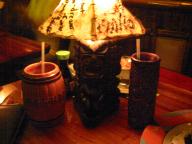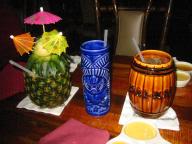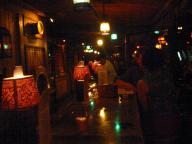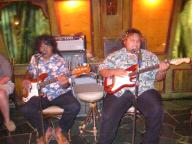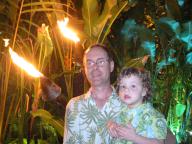 Mai-Kai in Fort Lauderdale.
Chicago
Northern California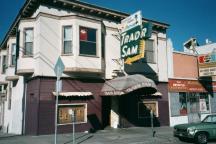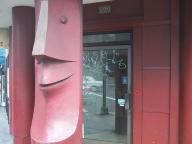 Trad'r Sam (L) and Tiki Bob's (R, defunct), San Francisco.
Southern California
Austin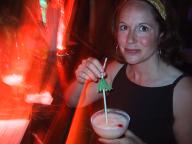 Sarah at Ocean's 11 in Austin.





Casio wrist camera photos of Hula Hut, Austin.
Elsewhere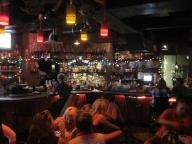 Grass Skirt, Columbus, Ohio.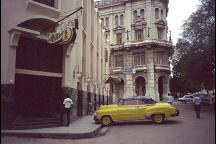 Floridita bar, Havana, Cuba. Not a tiki bar, but great rum drinks.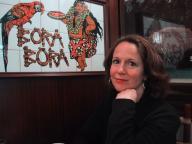 Bora Bora in Venice, Italy.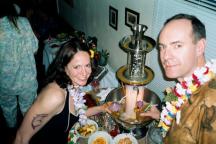 Sarah and me at one of our tiki parties.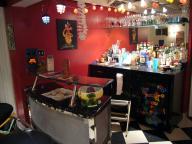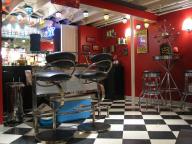 Our basement bar. Not very tiki but the drinks are good.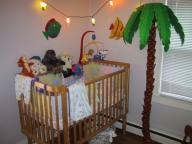 My son's bedroom.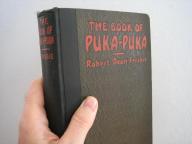 The Book of Puka-Puka.
News
Other tiki bar news:
Mai Tai
Here is my own "every day" mai tai recipe. There is nothing special about this, it's just how I make it when I'm too lazy to squeeze limes or make bar syrup and too cheap to use premium liquor. Purists will be horrified that I don't always squeeze limes but I don't care, I like it this way.
1 oz each white and añejo rums
½ oz each orgeat and Sangster's Wild Orange liqueur
2-3 oz lemon/limeade
The Sangster's can be a little hard to find. When I don't have it on hand I usually just use orange curaçao. I buy real orgeat from France. It's way better than Collins and doesn't cost much more.
When I want a special mai tai, I use Saint James, Appleton 12 year, Cointreau, and fresh squeezed limes.
Planter's Punch
This is a drink with as many recipes as there are bartenders. I like to use Havana Club when it's available. For the dark Jamaican I use Meyers's or Pusser's.
1¼ oz each white rum, orange juice, and lemonade
½ oz grenadine
½ oz dark Jamaican rum floated on top
Mojito
Not really a tiki drink but it does have rum in it. I'm not going to repeat the recipe but I want to make two comments about the mint. One, don't shred the leaves, just crush them a bit. Two, there are a couple dozen species of mint and they all taste different. If you just go to the store and buy mint, they'll give you mentha spicata (spearmint). It's ok but not ideal. In Cuba they use mentha nemorosa, also called large apple mint, foxtail mint, woolly mint or (no surprise) Cuban mint. I can't find that here in Michigan but I've been growing my own mentha suaveolens (apple mint), which is similar.
Rum
The definitive guides are by Edward Hamilton and out of print. I'm not a fan of Bacardi, which to me doesn't have much taste. For white rum I've been using either Meyers's or Mount Gay when I can't get Havana Club.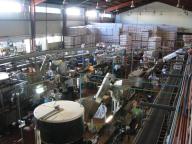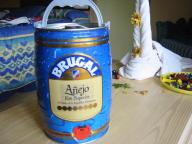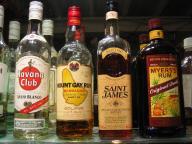 The Brugal rum bottling plant in Puerto Plata, my own Brugal supply, and four of my favorite rums.
Jim Rees