India, March-May 1989
Please read my license notice before copying my photos.
Bombay
The street; Cafe Mondegar.
Goa
Wide load; Fishermen; Snack vendor; Ferry boat.
Bangalore
Auto-Rickshaw.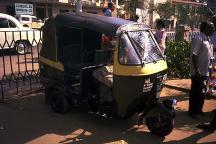 Mysore
Chamundi Hill and temple; Holi festival.
Ootacamund
Hunt Room and front yard at the Fernhill Palace; Temple; Street scene at dusk; Steam driven cog railway to Mettupalayam.
Kerala
Quilon at dawn; Boarding the boat at Quilon bound for Alleppey.
Tamil Nadu
Madurai; Shree Meenakshi Temple; Local transportation; Flower vendor outside Sri Ranganathaswamy Temple, Tiruchirappalli.
Calcutta and Varanasi
Calcutta rickshaws; Ghats on the Ganges, Varanasi; Wedding procession; Flower vendor; child.
Agra and Kanpur
Taj Mahal; Temple, Kanpur; Movie poster; cars.

Back to Travel.
Jim Rees