Việt Nam, July 1989
Please read my license notice before copying my photos.
Hà Nội
Uncle Ho's tomb, Opera on the lake.
Hà Nội to Huế train
Engineer, Conductor, Fellow passenger, Dining car.
Huế
Fish market.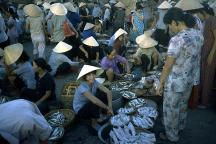 Sài Gòn
Captured US Army tank, Sidewalk café, Banh bao lady and friends, Nightclub.

Back to Travel.
Jim Rees