Almeria Lykes Across the Atlantic, October 1988
Please read my license notice before copying my photos.
In 1988 I crossed the Atlantic on the Almeria Lykes, a medium size "box" (container) ship.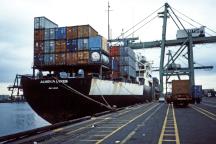 This ship had 8 passenger cabins, but only two were occupied. There were three passengers and 26 crew on board. We ate all meals with the officers. The food was very good. Not much to do on board. There was a small library, which had some videotapes, and I read several books. The crossing from Newark to Livorno, Italy, took ten days, which is fast for a cargo ship. I was trying for Spain, and that's as close as I could get.
Along the way I got a tour of the engine room. If you've never seen a multi-megawatt mobile power plant, it's a thing of beauty. This one was oil fired steam. The oil is so viscous it doesn't flow unless heated. The boiler was a three story tall column with the fire of hell inside. The steam fed a turbine with a three foot diameter solid steel shaft. The turbine developed 24,000 HP (18 MW) at 126 rpm. There were also three house-sized one megawatt electric power generators and a large freshwater still.
It wasn't what I would call cheap. It cost about the same as flying at that time. If you view it strictly as transportation, that's not such a good deal. I view it as ten days food and lodging while traveling at the same time, and if you look at it that way, it's a great bargain.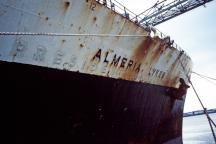 The Lykes Brothers were unable to give me a firm departure date, so I spent three weeks sitting around Michigan waiting for them to call, then another 5 days sitting around Boston. If you're in a hurry, this could be a problem. I make it a point not to be in a hurry when I travel, so this was fine for me. I view the sitting-around time as a bonus.
For me, the experience was fantastic. There's nothing quite like slipping out of New York harbor, past the Statue of Liberty, at dusk, on your way across the Atlantic. The stars at night were incredible. The ship's wake glows in the dark, I'm told from microscopic phosphorescent living things. Passing through Gibralter, with the white roofs of Morocco on one side and Spain on the other, was another highlight. And when we arrived, there was no long line at customs, no screaming kids or hotel touts, and no jet lag. Just a bus ride in to town.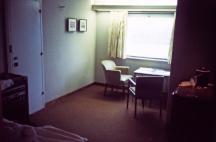 About a year after I got back from this trip (18 months in the Middle East and Asia), I was at the Air & Space Museum and discovered that "my" ship, which had originally been called the President McKinley, had served in 1982 as the mid-Pacific refueling stop for the first round-the-world helicopter flight, by H. Ross Perot Jr. and Jay Coburn in a Bell 206L-1 LongRanger II named the Spirit of Texas.
I would recommend trans-oceanic freighter to anyone who has the proper travel style.

SS President McKinley was built in 1968 by Ingalls Shipbuilding Co., Pascagoula, Mississippi for the American President Lines at a cost of $13.7 million and was the third ship named after President McKinley. Length overall was 573'11", beam 45'6", displacement 21,425 LT, gross tonnage 14,764. She was lengthened 90 feet and converted to a container ship in 1972, increasing her length to 663'11", displacement to 27,620, and gross tonnage to 17,801. She was sold to Lykes and renamed the Almeria Lykes in 1987, then sold to Sealand and renamed the Shining Star in 1993. She was scrapped in 1996.
More info:
President McKinley (Third)
With a Little Help from Dad, a Texas Heir Circumnavigates the Globe by Helicopter
Bell 206L-1 LongRanger II "Spirit of Texas"
Jim Rees