Jefferson Market
Please read my license notice before copying my photos.
This neighborhood market was called "Johnny's" in the 1960s when I attended Bach Elementary School across the street. Johnny Komosinski owned the place from 1946 until 1982. Johnny's wife used to yell at us kids for reading the comic books before we paid for them.
At one time there was an unrelated Jefferson Market at 411 East Jefferson.
Former Fleetwood waitress Jean Henry remodeled the building and opened as a market, take-out restaurant, and coffee shop in 2001. She closed the Market on October 1, 2007 and it reopened under new owners on April 2, 2008. It is now the Jefferson Market & Cakery.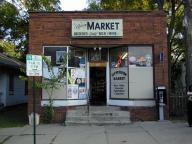 September 7, 1999.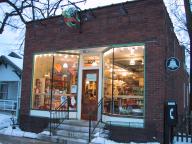 January 17, 2001.
If you have any older photos of Johnny's I would love to see them.
Jim Rees