The Fleetwood Diner
Formerly the Dag-Wood. This is a fan page and is not officially connected to the Fleetwood. The official Fleetwood web site is at thefleetwooddiner.com. Please read my license notice before copying my photos.
Building and People

Ready for opening day, March 1949.


1972. CC AADL


1973, photo by Susan Wineberg


Plain exterior, April 1987.


At night, January 1993.


The old enamel exterior, April 1995.


The shiny new stainless exterior, 1998.


Under snow, January 1999.


Satisfied customers.


May I take your order, please?


Have some more coffee!


Dead bikes out front.
Wedding Reception 1978
Photos courtesy of Steve C.
Artifacts

Menu, 1990s.


A sign from the 1970s.


Ad for local bank, 1970s.


Dag-Wood matchbook, early 1950s.


Post card, 1978.


Victor mug, 1980s.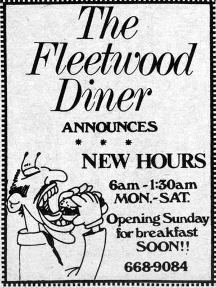 Ann Arbor Sun, February 22, 1974
Copyright: Creative Commons (Attribution, Non-Commercial, Share-alike)
News
March 2020
All bars and restaurants in Michigan, Ohio, and other states are closed for the Covid-19 pandemic. The Fleetwood is open 9-4 for carryout only.
May 2018
There are new countertops now. Over the winter the outdoor patio was partially enclosed and heated.
February 2017
We lost one of the regulars. Larry used to come in around 7am and sit at the table by the stairs. His order was scrambled, bacon, hash browns, white toast. After he retired from Ford he started coming in later and cut out the hash browns. He always brightened my day, and he will be missed by his many friends and all who knew him.
February 2015
The building housing the Fleetwood, which has been owned by Al Nalli for decades, has been sold to a "Metro Detroit ophthalmologist."
December 2014
The Fleetwood got a new roof-top neon sign to replace the backlit sign that had been there since the Dag-Wood days.
August 2012
Bill Close, who co-owned the Fleetwood with Chris Andrews in the late 1980s, died on August 17.
May 2010
All Michigan restaurants are now officially non-smoking. You can't even smoke outside on the patio. I actually feel a bit sorry for the smokers, but it sure makes the meal more enjoyable.
March 2009
Happy 60th Dag-Wood/Fleetwood! No big party but lots of people stopped in to wish the Fleetwood a happy birthday. March/April 1949 was a busy time, with the Fleetwood, Swede's Diner, and the Flame all having grand openings.
March 2008
The Fleetwood turns 59 this month. I'm thinking about getting Andy to throw a big party next year for the 60th.
The Fleetwood is on myspace now.
February 2008
The new No Smoking policy only lasted a few hours on January 1 before being rescinded.
The Fleetwood has a new credit card machine. It has so far not been popular with the staff.
December 2007
On Jan 1 2008 the Fleetwood will be going non-smoking 7am – 8pm Monday to Friday and 7am – 10pm on the weekend. This has been controversial among both staff and customers and the subject of much debate at the counter.
August 2007
No news is good news. The Fleetwood has not been torn down for a parking garage. The Fleetwood has not gone out of business. It's still there, serving up food and coffee 24 hours a day. There are now branches in Lansing and Kentwood (Grand Rapids).
November 2005
Megan Broat is trying to start a zine/anthology, "Greasy Spoon Anthology: Tales of the Fleetwood Diner" and is looking for contributions. More info at www.myspace.com/greasyspoonanthology.
I've also heard rumors of a possible documentary project.
August 2004
The branch Fleetwood at Michigan Ave & Carpenter Rd has closed, but there is now another branch at 2211 S. Cedar St in Lansing.
December 2003
Co-owner George Fotiadis and a partner have opened a second Fleetwood at the corner of Michigan Ave & Carpenter Rd.
August 2002
My favorite new feature is the rogue's gallery of Polaroid snapshots of people who have been banned from the Fleetwood.
Another of the waitresses got married this month, at Dominick's. It was the fifth Fleetwood wedding I've been to.
The fifth annual Shopping Cart Race was held the night of the 20th.
August 2001
The awning has been replaced but looks just like the old awning.
The fourth annual Shopping Cart Race was held the night of the 21st. The big innovation this year is the addition of bicycle wheels to several carts, allowing them to achieve very high speeds compared to previous years.
August 2000
The third annual Shopping Cart Race was held the night of the 23d. More entries than last year, and many more spectators.
March 2000
The front door has finally been replaced. The new one is just right. No menu changes recently but several waitresses have left. Hippie Hash, invented at the Fleetwood, is now being served in several other area restaurants.
August 1999
The second annual Shopping Cart Race was held the night of the 17th.
February 1999
The counter stools have been re-anchored. Two of them had been completely adrift, and a third was foundering. The front door has also been rebuilt.
November 1998
The "milkshake" machine and waffle iron seem to both be permanently out of service. Main Street News has gone out of business and the newspaper coin boxes in front of the Fleetwood have been removed, so it now takes some planning to get a paper to read over coffee.
September 1998
The first annual Shopping Cart Race was held the night of the 1st.
July 1998
The Fleetwood closed for several days following a severe thunderstorm and power outage on July 21.
May 1998
Last month the Fleetwood got all new outside tables and chairs. This month it got a "milkshake" machine.
September 1997
The Fleetwood closed after a fire during Art Fair 1997 (third week of July) and re-opened on August 18. While the restaurant was closed the owners installed a new hood and extinguisher, new black & white tile floor, and new metal wall strips. They also re-anchored and re-covered the counter stools and made several other improvements. They raised prices for the first time in many years, and added some items to the menu, including waffles and chocolate milk.
The owners have recently started covering the outside of the building in stainless steel panels. The original enamel is still there under a coat of paint.
History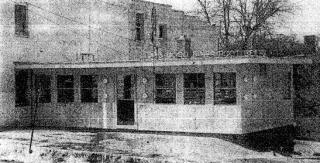 March 1949
The Fleetwood was built from a kit by Donald Reid and originally named the Dag-Wood. Before 1948 the City building code required masonry for all new restaurant construction. On July 6 of that year Reid petitioned the city for a change in the building code, and on August 2 the City Council passed an amendment that appeared to be custom written for the Dag-Wood. It allowed metal construction for new buildings of 1000 square feet or less and no more than a single story, but only for restaurants and stores. (A similar amendment had been passed earlier for all-metal Lustron homes.)
Construction was started in the fall of 1948 and was complicated by the closing of the Dag-Wood Diner Company before the diner was finished. Costs totaled $14,000, and the diner opened on March 17, 1949 as the Dag-Wood Diner. Two months later Reid placed tables on the sidewalk and opened Ann Arbor's first sidewalk cafe.
Reid sold the diner to Robert Brown in 1966 and died in 1978. Mark Hodesh bought the Dag-Wood in 1971 and renamed it the Fleetwood. At that time the diner had been used for a variety of non-diner purposes, including as a prep kitchen for vending machine sandwiches. Hodesh later returned to Ann Arbor and bought Downtown Home & Garden, across the street. Former cooks bought the diner in bankruptcy court for $46,000 in 1984 after former owner Kaye Dumsick was unable to pay the bills. The Fleetwood has been owned by George Fotiadis and Adi Demiri since 1992. It is always open, except for occasional holidays.
Dag-Wood Diner Company
The Fleetwood was manufactured by the Dag-Wood Diner Company of Toledo, Ohio in 1948. Unlike most classic diners, it was shipped as a kit, not as a complete ready-to-cook unit.
There is another Dag-Wood diner located in Erie, Michigan, but has been remodeled beyond recognition. The original Dag-Wood near the corner of Monroe and Secor in Toledo closed in 1963. There may have been as many as a half dozen Dag-Woods. There is more about Dag-Wood at the Lake Erie Region Dining Car Companies page.
The Lost Documentary
There is a passing mention in the Ann Arbor Sun, September 20, 1974 of a show about the Fleetwood being aired on public access TV. It would be great to find a copy, but the chances are slim after all these years.
Owners
Please send me any additions or corrections to this list.
1949-1966 Donald Reid
1966-? Robert Brown
(a series of owners and non-diner uses)
1971-1980 (?) Mark Hodesh and/or Rich Alford
1980-1983 Kaye Dumsick
1984-1989 Chris Andrews and Bill Close
1989-1991 Kay Ferrell
1992-present George Fotiadis and Adi Demiri
Coffee Kid Comics

The Coffee Kids sit at the tables drinking coffee for hours. Here is a small sample of the cartoons they draw.
Art Gallery
Art extends the language when words are no longer appropriate.
References

"Downtown Ann Arbor buildings sold to Dr. Reza Rahmani," MLive, February 26, 2015.
"Serving Ann Arbor," Michigan Daily, 2 Feb 2006.
"No radical changes ahead for Fleetwood," Ann Arbor News, 4 March 2005.
"Fleetwood Diner deemed landmark of A2," Michigan Daily, 4 Nov 2004.
"Ann Arbor's famed Hippie Hash comes to Lansing," Lansing City Pulse, 3 March 2004.
"Betsy Ross To Be History After 39-year Run In Toledo," Toledo Blade, 22 May 2001.
"Grease contributes to down-home feel at Fleetwood," Michigan Daily, 12 April 2001.
"Fleetwood Diner," Ann Arbor Observer, November 1997.
"Where can students go for late-night, hangout fun?," Michigan Daily, 27 Feb 1997.
"Fleetwood Diner Gets Cooking Again," Ann Arbor News, 30 July 1992.
"Former cooks buy Fleetwood," Michigan Daily, 29 March 1984.
"Financial Troubles Force Closing Of Two Downtown Restaurants," Ann Arbor News, 26 May 1983.
"Restaurant Founder Dies," Ann Arbor News, 31 May 1978.
"And Now, A Tree Grows On Downtown S. Ashley," Ann Arbor News, 2 November 1974.
This Web Page
I have no official connection to the Fleetwood other than as a satisfied customer.
The Fleetwood had Ann Arbor's first restaurant web site, in 1995.
This web page was chosen "Favorite food or restaurant web site" by readers of the Ann Arbor Observer, November 1996.
See also
Jim Rees