Surfin' the Spillway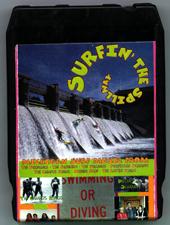 In 1996 I produced a compilation CD of Michigan surf music for Ann Arbor based Happy Hour Records, which was founded by Ten High singer and guitarist Wendy Case. She later went to work writing for the Detroit News and performing with The Paybacks.
Surfin' the Spillway was released on December 7, 1996, with a party at the Magic Stick. We pressed about 1200 CDs and 20 8-track tapes.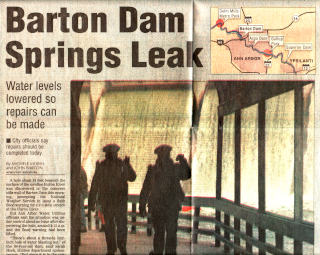 This CD was controversial from the start, not for its musical content, but for the cover photo. The photo shows a group of surfers plunging down the face of Barton Dam in Ann Arbor. This is a doctored photo and does not depict a real activity. Do not attempt this stunt yourself. I took the photo myself and I can assure you there were no people on the face of the dam that day.
Shortly after the release, City of Ann Arbor inspectors discovered cracks in the face of the dam that required a lengthy and expensive shutdown and repair procedure. Spillway surfers were unjustly accused of causing the damage and there was talk of banning this dangerous but non-existant activity.
But worse was to come. The City Attorney's Office asked me to remove all photos of dams from my web site because of a citizen's complaint that these photos could encourage illegal activity. I have complied with this request, leaving only the small image of the 8-track. If you want to see the original cover you will have to find a copy of the CD somewhere.
Read Phil Dirt's review of Surfin' the Spillway.
You can read more about Surfin' the Spillway in the Detroit News story, Michigan's surf bands ride out big waves and bikinis on a new CD, December 5, 1996.
You can also listen to a sample track, Wangler by Mondo Mod (mp3).
My stint as Big Time Record Producer led to my being appointed Musical Director for the Get Curious With Safety Girl TV Show.
Here is the list of tracks:
The Prodigals
1 Tsunami (Casello)
2 Firewalker (Casello)
3 Ride the Savage Dolphin (Casello)
4 X-Ray Man (Casello)

The Silencers
5 Matt Helm (Toth) *

The Volcanos
6 Twilight At Rincon (Mills) Creepy Tunes, BMI *
7 Side-Swipe (Mills) Creepy Tunes, BMI *

Professor Schmiddy
8 Outbound (Schmiddy) *
9 Hotfoot (Schmiddy)

The Campus Kings
10 Singapore Swing (Neel/Schmiddy)
11 207 (Neel)
12 Cheyenne (Neel)

Mondo Mod
13 Spy Theme (Augé/Berlongieri/Sandvoss/Stollsteimer)
14 Penguin (Glasser) Richbare Music, BMI
15 Wangler (Augé et al)

The Lustre Kings
16 Forbidden Planet (Neel/Hendricks) *
17 Bottlerocket (Neel/Hendricks) *

* Previously released on vinyl

Jim Rees