Bill Kennedy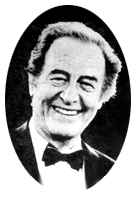 Photo courtesy of Mike Mosher
A Tribute to Bill Kennedy at the Movies at the Redford Theater
On Saturday, November 3, 2018 at 2pm and 8pm the Redford Theater is hosting a tribute to Bill. Be there!
Bill Kennedy As Role Model
My friend Mike Mosher once told me after interviewing Bill Kennedy on the phone, "Mr. Kennedy was cheerful, avuncular, laughingly praising the college boy who spun a gonzo appreciation from the heart. I suspect, however he appeared to us as kids, he really doesn't take himself too seriously. Darn, what a great job… I want."
Bill Kennedy was one of my childhood heroes. He would come on the TV in the afternoon and show movies. During breaks he would spin stories about his days in Hollywood. He seemed to know everyone. I was fascinated by the guy. I wanted to be him when I grew up. I even went so far as to get a job at a TV station.
One of Bill Kennedy's most memorable roles was one that he was not widely known for. On the old Superman TV series, he's the one who announces, "Faster than a Speeding Bullet… Able to Leap Tall buildings at a Single Bound!"
This is my own web shrine to my hero. Please email your stories and memories of Bill Kennedy to jim.rees@rees.org and I will add them to this page.
Copyright law prevents me from putting much here in the way of video, photos, or newspaper clippings. But if you have anything, especially video from Bill's show, please get in touch.
The Lost Brace Beemer Interview
Bob Daniel has asked us to help locate a recording of an interview Bill did with Brace Beemer, who was the voice of the radio version of the Lone Ranger from 1941 to 1954. The interview originally aired February 28, 1965, and Beemer died just a few hours later. If you can help, please email me or contact Bob directly at his web site, The Last Radio Ranger.
Memories of Bill Kennedy
Austin writes:
Growing up in west Michigan I started watching WKBD in 1978 and became hooked on the programming from morning til evening. BK was a great movie host and gave us viewers inside scoop on the movies. Even today when I see movies on Turner Classics, I think to myself that I saw this on WKBD hosted by Bill Kennedy.
David writes:
I loved watching Bill as a kid. I lived in Grosse Point not far from Bill. I saw him once watching his T-Bird get serviced, I was happy that he said Hello back to me. He was no snob. Please help, he once showed the movie with Ida Lopino and Bogart in Mad Dog Roy Earl. Im certain he said he was in it as a sheriff or something. Please help ? Was he in the movie ? Thank you. Great Site Jim.
pauline writes:
What did he say when he started the picture "roll em Mr ????" We couldn't make the Redford theatre last week and I thought I would finally find out mr ????
John W. writes: I've been going through as much Bill Kennedy reminiscences and tributes as possible looking for the answer to a question that has vexed me since the 1980s: What was the Western that he or WKBD used as a theme shot? It showed a cowboy from behind, first looking down from a height over a deep valley, and then prodding his horse to descend the trail. That was it, and it was used repeatedly, whether only for Westerns I can't recall for sure, but I think it was used as a "classic motif" for other movies as well.
If anyone can help track this down, please get in touch with me at jim@rees.org.
T. writes:
I can't remember exactly what it was he'd say as he [introduced the film], something like "And now on with our show"? Do you possibly remember or have any early clips?
If anyone can help track this down, please get in touch with me at jim.rees@rees.org.
Michelle writes:
Wow, was just speaking of Bill to a friend of mine, which prompted me to google him. Very happy to see your blog.
I was born and raised in Windsor. My Grandfather was CEO/Manager (?) of CKLW. Joseph Edward Campeau.
I remember like it was yesterday a skit Bill Kennedy did with young children called "Love Is" I was one of those children! Keep in mind this was around 53 years ago.The room was set up, and there were different scenarios played out by the kids. In one corner was a little boy and girl sharing a milkshake. I, with a fox fur neck wrap (with their little heads still on!) was standing with a little boy and he was handing me money, lots of money!! I remember being so envious of the couple sharing the milkshake!!..hey, I was 5!! Wish I knew then what I know now!
Bill Kennedy orchestrated this little skit/story. I know there several other couples doing other things on the set.
I also remember sitting at his desk once. I loved Sunday afternoons, just like everyone did, back in the 50's and 60's. Extra bonus if you didn't have to go to school and could watch one of his movies at 1pm
I know I was very young, but these memories have always been with me. My grandparents and parents kept many memories alive.
Mr. Kennedy, as I called him as a child was a well loved member of the CKLW team, and through association with my grandfather I was able to spend a little bit of time with him now and then.
If anyone has a memory of that little skit we did, called "Love Is" please post something.
Thanks for all the stories and the reminiscing.
william writes:
It was a pleasure to come across this website. TCM was playing 'Busses Roar' yesterday & I saw Bill Kennedy with a bit part (billed as 'The Mooch').
I believe his T-bird was a 1955, the '56 models having the continental wheel on the rear bumper.
I'm pretty sure Bill's show on CKLW came on at 1:00 pm M-F and at 1:00 PM on Sundays, Million Dollar Movie followed at 3:30pm with host Mary Morgan in her pearls & the dauchshound sitting in her lap.
Occasionally Bill would have on a little man whose name was Abe Schirro, president of Artistic Upholsterers. The two of them sat at Bill's desk, Abe doing his shpiel and Bill mugging for the camera.
Does anyone remember the ribbing Bill gave a CKLW production crew member whose name was Art Lang? He was one of those working just off camera, probably giving cues & Bill would razz him something fierce.
It's really wonderful to see how watching this man's show got so many young people in the Detroit area to start loving 'the movies'. While he was at CKLW my mom would be doing ironing & I would watch the movies with her. She knew movie stars' names like my generation learned the stars of pop music, replete with all the gossip. Instead of movie magazines we read Rolling Stone & Crawdaddy magazines.
I guess my best Bill Kennedy story would be how Bill would point out the difference in the winners of the fan polls taken back in the 30's & 40's. Bill said amongst the film going public Mickey Rooney & Shirley Temple would usually win but that amongst the stars of the movie industry they would always vote for Spencer Tracy as the best actor. That always stuck in my mind and as I got older and continued to view these movies (esp. the Warner Bros films) I went from a youngster who liked the wonderful acting of a Rooney or a Cagney and grew into an adult who learned to appreciate the more subtle art of a Spencer Tracy. I always remember Bill's comment and how it may well have spurred me on ato a deeper appreciation in the art of acting. To this day I always use the acting of Spencer Tracy as a benchmark to review the abilities of other actors. It's true! You can't 'see' Spence acting.
Thanks Bill, and thanks to this website & all who write in
Dave writes:
Hi Jim, growing up in Windsor, Bill Kennedy at the movies was a part of my life. Years ago I wrote Bill and thanked him for bringing movies to us that we would never had seen without him. He wrote a great letter back. In March of 1993 I was on vacation in Fort Meyers Florida. Over a few drinks I got the idea that we would drive to Bill Kennedy's house for a visit. I had his address from his letter 140 Kings RD. Palm Beach Florida.
We got to the house, rang the bell, and with the door closed heard a women's voice asking us what we wanted. I told her that we were from Windsor and drove over to see Mr. Kennedy. The door opened and bigger than life there he was, in pin stripe pajama's. I told him that my letter was about Cagney, and his letter stated that he used to as a kid sing the theme song from the Cagney movie Public Enemy, I'm forever blowing bubbles. His Grandma would give him a dime not to sing it. He talked of Windsor, Detroit, Hollywood. I asked him about doing the intro of the Superman TV series " Faster than a speeding bullit...." and so much more. He had a great voice, big heart, and big ego. We were lucky to have him in our lives.
George writes:
My father was the Promotions manager and manager of WKBD during Mr. Kennedy's stay at ch 50…I will never forget as a young boy having Mr. Kennedy drive his Rolls Royce to our home in Livonia for a party…the very car in this photo attached… Mr. Kennedy was very kind to me and when I gave him a book on cars of the stars he returned the favor and gave me a book from his personal files in the office on antique cars of the stars…I purchased the attached photo from the Detroit News …this photo was July 28 1979 at Bills home off of Lake Shores… Hope you enjoy! Sincerely, George A. Sperry IV. P.S.– my dad is still alive and has fond memories of Bill Kennedy, Lou Gordon and many other people of that era.
Jimmy writes:
This is "wild". How, when quiet, the brain can retrieve memories from long ago.
I am 60 years old and I was just making a cup of coffee and "Bill Kennedy" simply came to mind. I lived in Detroit until 1965. In what year did Bill Kennedy stop his show? I also, remember coming home from school and watching Bill Kennedy. It nice to know that somebody is keeping his memories alive. Thank you.
Jim from Detroit.
Frank writes:
Bill always talked about his white 1956 Thunderbird, it's beauty and value. I guess, thanks to Bill, I now have 16, and one of the biggest collectors in the southwest.
Ron writes:
I'm 69 years old, and I remember Bill's show from Detroit and then from Canada. Bill would talk about the Hollywood he knew. Like the making of Joan Of Arc, where the actor was asking for more fire wood to burn Joan, and he said, More Faggot's, and Bill reminded the director that at the time this bundle of wood, was a reference to Homosexuals. Bill also would make risque comments like, I could use a good gutter job. I moved from Michigan in 1977 to Garland Texas. I knew that Bill was the voice on Super Man, and he was seen on the Lone Ranger Show, and in movies of the 40's and 50's. The last time I saw Bill, he was him covering a story from Florida I believe, about a ship that had grounded on shore. The show was perfect for Mr. Kennedy, and I loved his stories, after all where else would you learn about the underside of Hollywood. He will always be part of my memory bank, and I dig him up occasionally to make an interesting story.
John writes:
I always enjoyed Bill Kennedy's show — the old movies, and his comments about them. Bill resembled my dad a bit, and I think that was part of the attraction. My best, and perhaps most humorous, memory was calling into the show one time to ask a question of Bill. Now, I think I had tried to get through on the phone a few times before and never gotten to speak to Bill. This time, however, my question was in regard to a movie in which he had appeared, a film biography of George Gershwin. Bill had a featured, but not major, role. When Bill answered my call, I mistakenly referred — not knowing the appropriate terminology — to his part in the film as a "bit part". Big mistake! Bill rather roared back at me, "Bit part!" Of course, I had to delicately wend my way out of that one and around to my question, which he was politely able to answer.
I had another memory that I was going to add to what I sent before, but I did not remember the name of one of the principle players.
I heard Bill several times make this comment. He would say, "Will Rogers said, and it is on his tombstone, 'I never met a man I didn't like', but there was ONE MAN Will Rogers did NOT like!" Trouble is, I can't remember the guy's name. He was an actor, kind of a football player build, that often played a "tough" kind of a character, but also with a bit of a foolhardiness about him. I would always remember this comment of Bill's because my grandfather had known Will Rogers, and I was always interested in things about him because Grandpa had known him.
That guy that Bill used to say that Will Rogers didn't like was Guinn "Big Boy" Williams. I tracked him down on the internet.
Ron writes:
I remember watching his shows in the late 60's and 70's. He was fun to watch. Like some other commenter, I watched it happened every spring for several years at opening day.
I was watching a movie in 1974 (February?) and in it the male lead spoke a line to the leading lady something like "You don't know it yet, but some day, I'm going to marry you." I turned to my steady girl and repeated the line to her. In effect, it was my proposal … during Bill Kennedy's show!
I am trying earnestly to find out what movie that was without luck. How does one look up Bill's movie line up from 1974?? Thanks.
Craig writes:
I've been enjoying reading about Bill Kennedy. I taped his final show and later transferred it to DVD. The film was "The Sons of Katie Elder" with John Wayne. Bill interviewed The Duke by telephone. Wayne was promoting what would be his last film "The Shootist." Bill apparently never watched "The Andy Griffith Show" or "Happy Days," because when Wayne mentioned co-star Ron Howard, Bill asked "Is he related to Leslie Howard?" I moved up north recently, but the disc is around here somewhere…
Elizabeth writes:
Quite often on Bill's show he would mention something about his hair transplants. Whenever I see one of those 'hairloss' commercials I think of Bill Kennedy, today, it brought me to your site. I've always been a fan of old movies and still prefer to watch the old movies. My husband is always teasing me saying 'they make movies in color now you know'. My brother in law and I trade trivia questions. Until reading your site, I was unaware of the true impact Bill had in creating this love and appreciation he helped develop in me. While growing up in the 50's we had 4 channels available to us: 2, 4, 7 and 9. I'm now living in West Michigan and am always surprised when people mention the 3 channels they had to watch and miss the access to the Canadian channel. Funny how you can get the BBC but not Canada.
Thank you
Nancy writes:
Just re-reading through your memorial to Bill Kennedy… my husband and I loved him and his "ham-i-ness" and credit him with our vast knowledge of old movies that continues to amaze our kids, who watched him along with us. BUT, we have one question … would you possibly know which year T-Bird he owned? I swear it was '55 and hubby swears it was '57…
Remember one show where he was shown in the car in CKLW's parking lot… and in my mind/s eye he was far bigger than the car…
We love catching sight of him in one of his movies… today, there are no stars or ex-stars to compare with him… he was one total original… still missed in 2011!!!!!
Thanks for any light you might be able to shed … and…
Thanks for posting his Obit and starting the discussion those many years ago…!!!
Greg writes:
I have many memories of Bill, he always had the crazy cloths, like his panda pants" crazy I watched him on channel 9, then channel 50, his movie facts were the greatest, every now & then he would have a guest on the show, Desi Arnez, near his last day's, his mom, on mother's day, I thought he was great he & his show were a part of Detroit history, as well as his 60 plus movies & radio roles, there was an interview in a rock magazine, Cream Magazine, he said, I'm not an actor! & I have 60 movies to prove it, that interview was back in like 1975, 7 that line has stuck in my head with the memory of Bill Kennedy & I ponder that it always will, Robert Osbourne is great but Bill started it
Wayne writes:
One story I loved was about the tv series The Lone Ranger. Bill had a small role in a few episodes. One day the cast and crew was out in the hills preparing for a day of shooting. All of a sudden, the "great horse Silver" took off up into the mountains. The wranglers gave chase but it took ALL DAY to find him, rope him and get him back to the set. By the time they returned they were losing light and called it a day. As Bill said, he and Clay (Clayton Moore) and all the rest made a day's pay for doing NOTHING thanks to "that stupid horse".
irma from windsor ontario writes:
i owe my love for movies to bill kennedy. it was shows like his, mary morgan and rita bell that introduced me to the hollywood classics. kids today don't know what they're missing!
Steve writes:
Who could ever forget that on EVERY "Opening Day" in Detroit he would play It Happened Every Spring? I have that movie (on DVD) and always thing of Bill Kennedy.
I really miss him!!!!!
L.G. writes:
Who was the lady with the cigarette in the portrait he always saluted walking in for the star of the show?
While we're at it - did he really have all those "Fabulous Files" or did he carry it all in his head?
The "lady" was Anastasia Reilly Buhl, a Ziegfield girl from the Follies of 1922. She was a fan and supporter. She married Ziegfeld's nephew and Detroit industrialist Theodore D. Buhl and had a successful career as a newspaper publisher. And yes, the "Fabulous Files" really did exist. They were donated to the Detroit Institute of Arts in 1987, where they are now known as the "Bill Kennedy Collection."
margaret writes:
he was the nicest guy on tv, im from windsor and watched his movie show until it went off the air. i remember he had competition on sundays from mary morgan, who always had a dog, she came on first and then bill came on. he never said anything nasty about anyone, just the bad movies, and he always mentioned being a spearcarrier in some movie, and being in the all army movie during the war. i think it was you're in the army now.
Mrs C writes:
I too grew up in Detroit watching Bill on TV. Loved every minute of it. But do any of you remember when Bill and the TV station sponsored the movie Gone with the Wind at a downtown theatre? We sent in our names and addresses and a drawing were held. It was one of the most memorable evenings of my young life. Remember there were no DVD at the time and that movie had not been shown in many, many years. After the movie he came down the stair case and watched his fans leave the theatre. I was always sorry I didn't thank him in person that evening. He always said when the ladies first saw Clark Gable they all sighed and boy was he correct. We all sighed, as if on cue. I married and moved away from Detroit in the late 60's and among the many things I missed was Bill Kennedy and his movies. God Bless him! Thank you for this web sight as I sit in Naples Florida, it has brought back a flood of happy memories.
George writes:
I was being a bit nostalgic today and I happened on your website devoted to Bill Kennedy. I 55 years old and I started watching Bill Kennedy as a little kid when I was sick and would stay home from school. I continued watching his show until it went off the air. I used to schedule my college classes around his show as much as possible. I learned everything I know about old movies from Bill Kennedy.
I also remember feeling a profound sense of loss when Bill passed away.
Thanks for making my day!
Joan writes:
I wonder if you could help me find a 1962 or 1963 Bill Kennedy interview with Dolores Hart prior to her leaving Hollywood to enter a convent. Dolores is being honored at a breakfast in October and we'd like to locate a copy of that interview if possible as well as a copy of the Matinee Theater (2/18/58) interview by Albert McKleerey (spelling?)
If anyone can help track this down, please get in touch with me at jim.rees@rees.org.
Brigitta writes:
Ah, what memories. I remember watching Bill Kennedy's movie show when I went to college back in the late seventies. Yes, he did rather sound like a windbag, but since my housemates and I were fond of old movies, we usually watched his show. I'll never forget the one time he said something so funny we almost fell off our couches laughing. After a commercial interruption of a Gary Cooper movie, he dryly said: And now, back to "yup".
At that point he gained an enormous amount of respect from me. I mean, after all, here was a guy who probably knew and worked with Cooper. Unspoken in that sentence was both an affection for and an insider-y reference to a Cooper trademark, and all at once he became someone other than an old man who used a lot of words to say not very much.
It was from his show that I discovered the Andy Hardy series starring Mickey Rooney. There were 17 of these movies made, and they were hardly the best movie series ever made, but they were entertaining, and frequently co-starred Judy Garland. They were generally way better than the Francis the Talking Mule ones or the Blondie and Dagwood ones. People all the time complain about Hollywood's current obsession with sequels, but it's something that Hollywood has always done. If something is a success, why there's no reason not to stick to the same formula over and over again.
But back to Bill Kennedy. It's not everyone that can say they've had a Hollywood actors' career, even if only appearing as minor characters in a long string of movies. Looking at his IMDB credits, he has appeared in some impressive movies, and his appearances have certainly spanned several decades, both in movies and in television dramas. I now wish I had paid more attention to his stories.
Reference to the Kaiser broadcast network also brings back memories of a time before cable, and when there were only 3 broadcast networks, and many "independant" stations. I grew up in Michigan, but nearer to Chicago than Detroit, and I remember getting a snowy picture from the Kaiser station out of Chicago. Back then, in the days before cable networks, and mega-media-conglomerates, you could expect to see much plainer and more homespun shows on your tube. A lot of it was garbage, but every now and then you could find a little unexpected gold, something unique that today would be airbrushed and market-tested into non-descript blandness.
Kim writes:
My Mother appeared on the Bill Kennedy show her name was Liz Kelly, she was a dance teacher and did a dance number on the show.
It would be a great blessing to find this show. Can you help? Thanks for looking into it.
If anyone can help track this down, please get in touch with me at jim.rees@rees.org.
Lauri writes:
I started watching Bill Kennedy as most of the others did - very young. I am, to this day, an avid movie watcher, and also like the others, know so much more about B&W movie trivia. A perfect Sunday in Detroit, the usual Shirley Temple movie, and then, while mom was cooking Sunday afternoon dinner, a great movie with Bill. I called in many times and asked trivia questions, or requested movies. I swear I still remember the telephone number - 313 298 2980? He loved Bette Davis, and of course, I do too!
Bruce writes:
It was nice to come across this tribute page to Bill Kennedy and to read all the great memories. Growing up in Toledo, Ohio my best friend and I have always blamed Bill Kennedy for the times that we skipped school on the days when he would be showing a good movie!
Plwblj writes:
In the 50's and 60's B.K.reigned supreme !
He had a touch of class & culture and that was undeniable; he had a flair for the dramatic and was a self-promoter which was part of the fun when he did not take himself all that seriously…he had that perennial twinkle in his eye !
What Bill learned in life was straight from Hollywood-you got to believe in yourself !
Never lacked in confidence which gave him a kind of local charisma which sadly did not translate in his early films.
Memories were strong going back then; unquestionably, he bequeathed a love of movies and trivia 50 years later for me.
R.I.P.!
You'll always be remembered…
Batchn writes:
Growing up in Grosse Pointe Farms, I remember Bill Kennedy as our local celebrity. He lived at the corner of Hillcrest and Beaupre in the Farms. One Christmas a bunch of my friends and I were out caroling and stopped at his house. He listened appreciatively to our singing and then shook hands with each of us. Quite a thrill.
I remember his son cruising around in an old hearse.
I also recall that when he broadcast from Windsor, his studio looked out on the Detroit River. As freighters went by, he would ask over the air if the crew was watching his show. Quite often the freighters would blow their whistles at Kennedy's request to confirm that his show was being watched. Bill Kennedy and Captain Jolly (Toby David) were a couple of Grosse Pointers who made Detroit television so memorable in the 60's. It's a shame they are no longer with us and there's nothing even close to those icons on TV today.
James writes:
Wow, what a blast from the past, Bill Kennedy. I've got to admit I am very glad so many remember Bill, he would have loved that. I was surfing around and popping in names form my past and your site came up when I put Bill Kennedy in. For several years I worked at WKBD and was on Bill's crew. He was a crusty old coot but all of us loved him. Bill was original and real. He had files in his office down the hall from the studio that must have had every Hollywood fact there was in it. We did the opening segment of "Bill Kennedy at the Movies" live. Then when we went into the first movie segment we taped the next two Bill segments. That way Bill could check out the facts in his files before he went on the air.
I remember one day he was doing a live promo for the next day's movie. He told the story of a young starlet that was excited to work with a big Hollywood star. Bill quoted her saying "She said, I'm really excited to be working under you." I was the stage manager and I took her quote the wrong way (or right, who knows). Bill saw me break out laughing it and lost it laughing on air himself. Then there was the time he came into the studio late and SAT on his mic. Did half of the first segment muffled.
Bill knew everything about movies and ZIP about cars. One day I came into work and Bill said his Rolls was making a a lot of banging noises. Well, I drove an old clunker and jumped at the chance to look under the hood of a Rolls Royce. What I found was that he was over 4 quarts of oil low. There was dust on the dipstick. Like I said I had a junker and a case of oil in the trunk so we got him going. Bill also had a T-Bird you won't believe what he did to it. For those of us who were lucky enough to work with Bill, (and Low Gordon) we will never forget them. If you are looking for some old pics of Bill I have about half a dozen. Happy to send you jpeg copies. When talking about movies don't forget he was the torpedo man in "Destination Tokyo."
I do remember that one time a new guy in the film room cut Bill's big scene (we edited all the movies for time. We really hacked Star Trek. I still have some of the old clippings.) and Bill was not very happy after he talked about it and then it did not air.
Al? writes:
Glad to hear that I'm not the only one who remembers watching Bill.
I remember skipping school over a friends house and watching all those gangster flicks. You know Edward "G", Bogart & Cagney. I watched him in Detroit I think on Channel # 50 or was it 52? I forgot. But., I'll always remember Bill Kennedy @ the Movies.
Patti writes:
I grew up in Rochester, MI and while growing up, watching Bill Kennedy at the Movies was part of the fabric of life.
He was on everyday at 1:00 P.M. excepting Saturday and on Sunday his show was followed by Mary Morgan and her dachsund, Leibshen.
I now live in New England and I frequently tell people about Bill Kennedy. He inspired my appreciation and love for movies. I can't watch a movie without a film encyclopedia at the ready to look up facts about actors and actresses. My husband can't stand watching old movies with me because I'm as interested in the production details of the film as much as the story, he grows annoyed with my interruptions about this actor or that director. Bill Kennedy is responsible for that!
I also recall arriving home from school each afternoon and my mother would be watching the tale end of the Bill Kennedy show. If I was home for some reason, we always tuned in at 1:00 (after Jeopardy ended). These are great memories.
I wrote a letter to AMC suggesting that they do documentary about movie hosts like Bill Kennedy, although I wouldn't be surprised if he was one of kind.
He can be seen bidding Bette Davis good bye at the bottom of the ramp as she leaves the cruise ship in "Now Voyager".
Thanks for the website. I can show my husband, friends and acquaintances that Bill Kennedy is remembered by many grateful fans.
Brad writes:
I was so astounded to come across your tribute to Bill Kennedy. I hope it is still active and you can add my story to your list. You know, I thought I was the only adult who remembers watching Bill Kennedy at the movies during the mid seventies when our family lived in Toledo OH. It was on channel 50 from Detroit and I spent many a lazy summer afternoon stretched out on the couch of our knotty pine "TV Room" basement listening to Bill spin his Hollywood recollections between showing those glorious old "pictures" that I still love today.
Bill's flair for the dramatic even inspired my brother and I to create a skit using our Father's reel to reel tape recorder. I played the role of Bill adapting his voice that surely bore the patina of years smoking and enjoying Manhattan highballs at some Hollywood watering hole. Of course at nine years old, I am not sure I was very effective. Anyways, my brother played a gangster that walks in on Bill during Bill's show. Shots are fired, and the results are catastrophic for Bill. The scene ends as police take the gunman away and Bill gasps, "And now, back to the show…"
Thanks for bringing back the memories, Thanks Bill.
Mike writes:
I too used to love both Bill Kennedy and Rita Bell. As a kid in Birmingham I grew up watching movies rather than cartoons. In the morning I'd flip back and forth between Johnny Ginger and Rita. When I came home for lunch I'd switch back and forth from the Fugitive to Jeopardy! And in the afternoon it was Bill. Every time I watch AMC I think how ahead of the times he was. Anyway after reading everyones comments and going through Bills film bio I find that one movie he was in is not listed. He was in War of the Worlds starring Gene Barry. He played the Sheriff who gets fried along with a couple of townspeople with the ray gun when the alien craft first opens up at the beginning of the movie. Check it out!
Fire Fire writes:
Hi Jim, and thanks for your site. I just happened to be thinking about Bill Kennedy when I decided to look up some info on him. Your site was the only site that I could find with anything on his life. I'm 38 now and even though I wasn't around in the 50's and most of the 60's but I do remember watching his show being amazed by his knowledge of old movies and actors. He was truely amazing to watch as a little kid. I remember when he moved to Florida, and thinking that was it and he then continued his show in Florida. Honestly, I liked his Detroit studio better but I'll always remember two iconic men who help define my childhood, Mr. Bill Kennedy and Sir Graves Ghastly. Rest In Peace Gentlemen.
David Wright writes:
I remember Bill Kennedy's show on (WKBD I think) channel 50 in Detroit. As a child growing up in Michigan he was my introduction to the Hollywood classics. It seemed as if he knew, or at least knew something about everybody in Hollywood. Now that I'm older I miss that guy. I remember as he got older he got a little grouchy. Most of all I remember he used to take phone calls on the air "this is Bill Kennedy your question please ". He was sponsored by that home improvement pitchman by the name of Belvidere who proclaimed "We do good work!" What a great chapter in my life that was.
David Wright - Baltimore Maryland
Annette writes:
The movie "Mr. Skeffington" just came on TV here in Fort Lauderdale and I was very surprised to see Bill Kennedy listed in the credits. I grew up watching him in Detroit on CKLW and loved his "Hollywood" stories. I had no idea he was in so many movies. He always joked about playing bad guys in B westerns. Wish we had someone like him around now!
JB writes:
I grew up in the Detroit area, and like many of your writers, I too learned to love the movies by watching Bill's show on channel 9 out of Windsor. I remember the T-Bird he used to drive around Grosse Pointe in and the day he brought it to my high school automotive class. He let us take apart the engine - unfortunately we were not able to get it back together before the end of the day and he had to leave it with us. He handled it in a good natured way with that warm smile of his. I was saddened to see that Bill has passed away - but he still lives on in movie memory.
JB - Washington
Jim Valice writes:
I just found your info on Bill Kennedy. I grew up in Detroit and, like many on your site, watched Bill's movie show on CKLW. I opened an indoor plant store in the early 1970's in Grosse Pointe, called THE PLANTSMITH. It was through that business I met Bill. I delivered holiday plants to his home one Christmas. He came to the door and was very friendly to me. He mentioned my store and how he wanted to come by sometime. I asked him how I could do what he did. He told me to go to Hollywood and "..knock on doors.." I took his advice and by 1980 I had moved to Los Angeles. I didn't get in the movies but did work at many television stations and have been in advertising for the past 35 years. I now have a marketing company in Woodland Hills California. I often go to Hollywood movie stores to find books and or posters of Bill but haven't found much on him. Reading your site, it's interesting how many people remember Bill.
Marge writes:
Jim, just a note to let you know how cool this site is. I grew up in st clair shores michigan watching bill, there was something about him, that just made you want to watch his show. I guess it was how he presented himself as an x movie star. A funny story back in 1974 we drove our car in his driveway when he lived in grosse pointe. We were in highschool then. We just wanted to see bill's house, when we pulled up his long driveway he came running out in his robe (it was about 11:00pm) he told us to get the hell off his property and he was going to call the police. All we wanted to do was see bill and we did.
frank from st clair shores
You mean ex-movie star, right?
Anne writes:
I just found your web site this morning and loved reading about Bill Kennedy. I grew up in Ashland WI. It's a little town on Lake Superior. We were one of the first families to have cable TV and I got hooked on Bill Kennedy before I was even 12 years old. In the late 60's and early 70's my little sister and I would go to church, walk home and stop at the candy store along the way and then hurry through lunch so we could watch Bill Kennedy. I loved the stories, the old black and white movies. I feel like my childhood was enriched because I began appreciating movies at a younger age than my friends. I also almost always win at Trival Pursuit.
Thanks for compiling the memories and bringing me back.
Anne
PS. I also liked watching The Ghoul on Saturday nights with my brother.
MSG in Houston (formerly Detroit) writes:
Thanks for your web site providing the well-deserved tribute to Bill Kennedy. I grew up during the 50's and lived in the Detroit area until 1971. Like many others, I loved watching this guy. I remember him bringing us movies - along with his riveting commentary - from the Windsor/Detroit area even before 1956 (I think), which is the time most info credits him as starting his movie hosting "gig". None of your other correspondents, however, have commented about his great "dramatic entrances" onto the set of his TV show when, to the tune of "Just in Time", Bill would promenade into camera's view, ala Rex Harrison with a checkered snap-brim hat on, remove it and twirl it across the set (usually successfully) onto an awaiting hat rack. Such suave, debonair savoir faire I have rarely seen since. One other point is that his movie credits that I have found do not include "Operation Petticoat" where Bill is CLEARLY seen on the bridge of the submarine, like a first-mate, standing alongside Cary Grant (or Tony Curtis) - I don't remember which because I am always so distracted by Bill's presence in the scene - as the ship enters the harbor near the end of the film. There are at least two camera shots of him in this sequence. This has caused me to conclude he may be apparent elsewhere in the film. Have you noticed??? Keep up the good work!!!
I'd forgotten about the hat trick. I wonder if that's where James Bond got it from?
Knightsbridge writes:
Bill Kennedy's theme song was "Just in Time" from the musical Bells are Ringing. He used it because he said he got the job just in time.
I used to watch Bill as often as I could from the late sixties through to the mid seventies in Sault Ste. Marie Canada, on Channel 50. I remember when he was waiting for people to call in, he would always sing, "All Alone by the Telephone" and when he played a film he was in, he'd sing, "I Used to be in Pictures, I Used to be a Star!" and then snort derisively. His singing was always wonderfully hammy and done with very broad hand gestures. He was a hoot!
Thank you for the site. I'd lost track of Sweet Old Bill, or just the initials, as he'd often say. Glad to see he's so well remembered.
Azabaza1 writes:
Hello, would you happen to know the name of the tune, composer and or orchestra who preformed Bill Kennedy's theme music on his old show, "B.K. at the movies?" It was very slow and relaxed. I haven't heard it in years.
Many thanks!
Mystery solved! See above.
Bob Cook writes:
I loved Bill… kind, unpretentious, genuine, and a very sincere person that loved to live, and loved life.
Bob worked at CKLW from 1966 through 1969 and worked with Bill. He sent in a long letter that is well worth reading.
EdLoc writes:
I don't know if you are the one that published the web site I was just on but I noticed in the filmography that Cry Danger with Dick Powell was missing in which Bill plays one of the cops that comes to the trailer camp looking for Powell's character's friend. In fact watching Cry Danger is what caused me to look up Bill on the web.
Irene from Canada writes:
I too was a great fan of Bill Kennedy. I grew up in Windsor, Ontario during the 50s and 60s and never failed to watch Bill's show on Sunday afternoons. My father loved old movies and since he was home on Sundays I would watch the old shows with him while mom was usually preparing a roast beef dinner in the kitchen. What a combination, the smells of roast beef cooking and a great movie to watch on a leisurely Sunday afternoon. From Bill I learned so much about the movies, the stars and the filmmakers who made them, that I grew into quite the movie buff myself. People are still amazed at the trivia that I have retained. As a teenager I thought that when I grew up I wanted to be Bill Kennedy's secretary just so that I would have access to his files.
Thanks, Bill for all the wonderful quiet times that I was able to share with my Dad and for giving me a passion for old movies.
Matthew St. Amand writes:
I remember watching Bill Kennedy at the Movies when I was a kid. I'll never forget how Bill mercilessly berated callers who called in with trivia or questions. Sometimes he didn't even seem to know what they were saying. Possibly he was still hungover from having gone out drinking the night before with Bill Bonds, bagging broads and killing bottles.
Bill Kennedy, however, met his match when he had on Detroit Tiger Kirk Gibson, who proved to be even more recalcitrant and disagreeable than ole Bill himself.
Long live Bill Kennedy. I hope he's off on his yacht in the Caribbean, bagging brown babes and hammering back the scotch.
karen writes:
I stumbled across your website and it brought a smile to my face. As a little girl, I use to sit in front of the television to watch Bill Kennedy at the Movies…religously! My mom would always put on his show every Sunday afternoon for me so I would never miss it. Now, I was a little girl of maybe 5 and was entranced by Bill Kennedy and no-one can figure out why, even to this day. I wouldn't really watch the movie because I too young, but I loved listening to him and was glued to the set!!! Everybody use to call him my "Boyfriend". My sister just sent me an e-mail about "You know you're from Detroit if you remember…" and on that list was Bill Kennedy. So to this day, it is still a big joke with my family. I really wished I could have met him…but his memory will always live with me as a loyal fan and watcher!
Fr Douglas Skoyles writes:
It would have been late 50s or very early 60s that Mr Kennedy received an insulting letter calling him a "has-been". With great dignity, Bill addressed the writer and the camera with words that I recall vividly to this day: "Better a 'has-been' than a 'never-was'."
Michael McNamara writes:
Here's a little trivia you might already know: BK has one line in: Joan of Arc (1948) as Thirache, the Executioner: as he piles the wood on the bonfire to burn poor Joan, he calls out "We need more faggots!"
seriously.
Francis X. Gregory writes:
I grew up in Detroit in the sixties. I loved Bill Kennedy and happened to surf onto your site. Please let me add to his filmography "The Peoples' Choice," which he produced, directed, and in which he starred!
He showed it in parts on two consecutive days once, and laughed that it was terrible and he had lost money on it. I'd be interested to know if any one else shares this recollection.
The Last Girl Scout writes:
Bill Kennedy taught me to love the movies. He so clearly loved them himself, it was easy for him to pass that on. I loved our family's Sunday ritual of church, lunch, and Shirley Temple, or perhaps Tarzan. My Dad was a cop's kid; in the thirties and forties he got in to the movies on Saturday afternoons for free. Bill Kennedy gave my Dad a chance to pass along his childhood, to the point that my own childhood memories are filled with images of Bette Davis and John Wayne, Shirley Temple and Johnny Weissmueller, all in black & white. Thanks to Bill Kennedy, I still love movies today.
Scott Michaels writes:
I've been really digging in my brain for a Bill Kennedy story for you, but I have none. I just called him once, and asked him, "Who was the voice of the robot on "Lost In Space?" He was kind, and I got my answer. He, like Rita Bell (who I would also love to find), Milky, Mr. Houdini… They were all real Detroit fixtures. Never thought they'd go away. I miss that life.
Karen Venier writes:
My Mother many years ago appeared on the Bill Kennedy show. She brought to him old films of Detroit that she had. She took with her my older brother and sister whom at the end of the show they panned across and showed them. My Mother has gone up in years and is now 75. I would love to be able to show her a clip of the show that she appeared on.
My guess is that it aired the fall of 63 or the spring of 64. This would have been my Mother as a guest showing films of Detroit before the Ambassador bridge was built. Her name at that time was Ethel Adams. Any information you can get will be helpful. I would just love to get a copy of this show for sentimental value, and also for my Mother.
If you can help track this down, please send mail to jim.rees@rees.org.
Tom Crown writes:
…I was a big fan of B.K. I called in many times with movie trivia that Bill would use on his program, and one time I really screwed up BIG TIME! I thought a movie that Bill was airing had an upcoming bit part with James Dean in one of his earliest roles. Well, I was right about the info on Dean, but I was wrong about the film Bill was presenting that day. The movie Bill was showing was titled "For Me and My Gal," and I thought it was "Has Anybody Seen My Gal?" in which Jimmy had a small role as a young teenager asking for a chocolate malt from soda fountain jerk Charles Coburn. Bill really built this information up on the air that his viewers would soon be seeing James Dean in one of his earlies roles, and of course it never happened! Bill, of course never said anything after the closing credits, but I sure had egg on my face…
Kennedy was my hero. I just wish that someone would release a tape of our dear pal. Did you know that Bill once appeared with Soupy Sales, and Rita Bell for an hour long special that was produced, and taped at WXYZ TV? It aired sometime in the early 70's. I just wish that someone could release that tape or, perhaps Bill's one shot at a starring role in "Escape From The Desert." Perhaps, if enough of his fans were to write to Warner Brothers they might consider releasing the film to video tape…
A man I consider to be a Detroit icon: Bill Kennedy. I'll miss him.
Mary Dillman writes:
I felt saddened when I read of Bill Kennedy's death, yet gratified that he had given so much pleasure to our family. I can still visualize his jaunty entrance at his opening hour, his head covered with a cocked beret, and his command of knowledge of the entertainment world.
Sunday afternoon with Bill was a regular family ritual for us. I would prepare a large snack tray which we shared while watching the movie, and listening to the master weave his bits and pieces. I believe the only one who enjoyed the food more was our dog, who loved her shrimp with lots of cocktail sauce.
Memories are never put to rest.
I'm afraid that the news of Bill Kennedy has depressed me. Quite catatonic, even tried watching "Lost Horizon" with Ronald Colman and Jane Wyatt for inspiration but t'was to no avail.
Bill, Bill where are you?
A friend writes:
Ok, the story goes like this. When Bill moved down to Florida, he was on his show, and his RUG was missing. You might remember, he had an obsession about his hair (or lack thereof). Anyway, the reason his rug was missing was because a seagull came down and snatched it off his head!
Bill Kennedy was the quintesential self promoter. His 'tag team' on air schmoozing with Mr. Belvedere ("We do good work!") was the best. I watched him almost every day.
So long, Bill. To quote another dead guy, 'Meet you in the next world and don't be late'… J. Hendrix
Bill Kennedy Dies
From the Associated Press
28 Jan 1997

Former TV Movie Host Dies
DETROIT - Bill Kennedy, once described by his television station as "Detroit's premiere movie host," died Monday at his home in Palm Beach, Fla., after an extended illness. He was 88.
The nature of the illness was not immediately known, said Greg Quattlebaum of Quattlebaum Funeral Home in Palm Beach, which was handling the funeral arrangements.
Prior to hosting weekly movie shows in Detroit, Kennedy had appeared in movies and television series during the 1940s, including "Destination Tokyo," "Air Force," and "Escape in the Desert."
In 1945 he starred in the 13-chapter serial "The Royal Mounted Rides Again."
He started his Detroit television career as a newscaster on WWJ and WDIV-TV, and star of "Your Hollywood Host" in 1952. A year later he left for Hollywood.
He returned to the Detroit airwaves on CKLW-TV in Windsor, Ontario, before joining WKBD-TV in Southfield in 1969. He soon began his weekly movie show "Bill Kennedy at the Movies."
He moved to Florida in 1982 but continued producing one movie show a week for broadcast in Detroit on WKBD. His last show in Detroit aired Dec. 4, 1983.
Funeral services are scheduled 10:30 a.m. Thursday at St. Edward's Catholic Church in Palm Beach, Fla.
Filmography
Male and Female Since Adam and Eve (1961) aka Souls of Sin
Unchained (1955) (uncredited) [Sanders]
I Died a Thousand Times (1955) [Sheriff]
Loose in London (1953) (uncredited) [Ship's Officer]
Red Planet Mars (1952) [First News Commentator]
Nevada Badmen (1951) [Jensen]
Cry Danger (1951) (uncredited) [Cop at Trailer Park]
Canyon Raiders (1951) [Hemingway]
Abilene Trail (1951) [Colter]
Silver City Bonanza (1951) [Monk Monroe]
Gunslingers (1950) [Ace Larabee]
Border Outlaws (1950) aka The Phantom Horseman (UK)
Border Rangers (1950) [Carlson]
I Shot Billy the Kid (1950) [Deputy Poe]
Peggy (1950) [Reporter]
Storm Over Wyoming (1950) [Jess Rawlins]
Train to Tombstone (1950) [Reverend Greeley]
Two Lost Worlds (1950) [Martin Shannon]
The Marshal of Trail City (1950) (TV) Forgotten Women (1949) [Bill Dunning]
Law of the West (1949) [Nixon]
Shadows of the West (1949) [Jonathan Ward]
Sheriff of Medicine Bow (1949)
Trail of the Yukon (1949) [Constable]
Assigned to Danger (1948) (uncredited) [Assistant District Attorney]
Belle Starr's Daughter (1948) (uncredited) [Kiowa Marshal]
Triggerman (1948) [Kirby]
The Sheriff of Medicine Bow (1948) [Barry Stuart]
In This Corner (1948) [Al Barton, ring announcer]
I Wouldn't Be in Your Shoes (1948) [2nd Detective]
Overland Trails (1948) [Carter Morgan]
Joan of Arc (1948) [Thirache, the Executioner]
A Southern Yankee (1948) aka My Hero [Lieutenant Sheve]
Web of Danger (1947) [Ernie Reardon]
The Gangster (1947) [Thug] aka Low Company (USA: reissue title)
The Case of the Baby-Sitter (1947) [Homicide Lt. MacGruder]
News Hounds (1947) [Mark Morgan]
Fun on a Weekend (1947) [Bill Davis]
The People's Choice (1946) (as Drew Kennedy) [Abner Snell]
Bachelor Girls (1946) [Mr. Stapp] aka Bachelor's Daughters, The
Don't Gamble With Strangers (1946) [Harry Amold]
That Brennan Girl (1946) [Arthur] aka Tough Girl (USA: reissue title)
Escape in the Desert (1945) [Hank Albright]
Rhapsody in Blue (1945) [Herbert Stone]
The Royal Mounted Rides Again (1945) [Wayne Decker]
The Doughgirls (1944) (uncredited) [Guy who Punches Drake]
Hollywood Canteen (1944)
Crime by Night (1944) [Hospital Attendant]
Make Your Own Bed (1944) (uncredited) [George, FBI Agent]
Mr. Skeffington (1944) [Thatcher]
Destination Tokyo (1943) [Torpedo Gunnery Officer]
The Hard Way (1943) (uncredited) [Radio Announcer]
Princess O'Rourke (1943) (uncredited) [Second Airline Dispatcher]
Northern Pursuit (1943) (uncredited) [Mountie]
Mission to Moscow (1943) [American Newsman]
Murder on the Waterfront (1943) [First Officer Barnes]
Truck Busters (1943) [Tim Shaughnessy]
Now, Voyager (1942) [Hamilton Hunneker]
Flying Fortress (1942) (uncredited) [Manhattan News radio announcer]
Buses Roar (1942) [The Moocher]
Highway West (1941) (uncredited) [Cop in crash]

References
Mosher, Mike, "Camelot on Kaiser: Bill Kennedy at the Movies (a Stylistic Appreciation)," CINEGRAM magazine, vol. I no. 2, June-August 1976, pp. 2-3.
Detroit Free Press Obituary, January 28, 1997.
"The stars who turned Detroiters into couch potatoes," The Detroit News.
George Reeves -- The Adventures Continue
Triggerman -- Bill Kennedy as B movie bad guy.
Bill Kennedy (actor), Wikipedia.
---
Jim Rees