Triggerman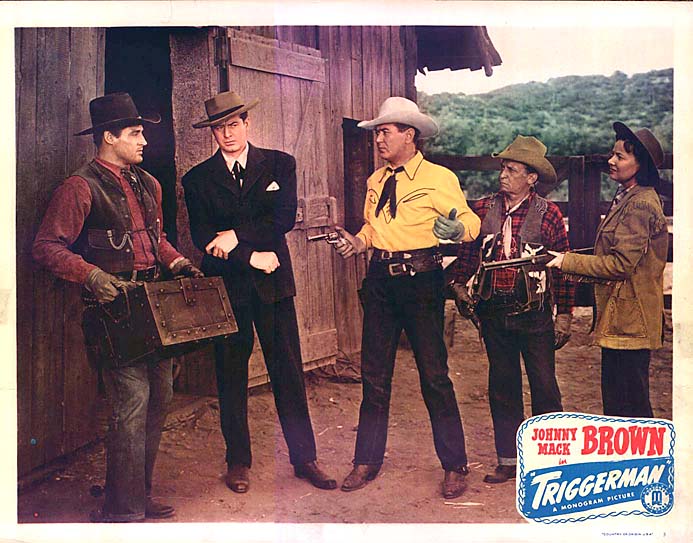 Photo and text courtesy of Chuck Anderson
People in the lobby card are, from L-to-R: Marshall Reed, Bill Kennedy, Johnny Mack Brown, Raymond Hatton, Virginia Carroll.
"Triggerman" was released June 20, 1948 and was from Monogram Pictures.
Some background on this film:
The era of the low-budget B-western (talkie version) was from about 1929-1954. After WW2, studios found themselves in a period of escalating production costs as well as changes in the taste of their studio audience (i.e., baddies in westerns weren't anywhere near as "bad" as what so many had faced during the war). Production companies like little Monogram were also faced with a newfangled gadget called television. "Triggerman" was from that post WW2 period.
Johnny Mack Brown was a gridiron hero for the University of Alabama in the 1926 Rose Bowl. And he began his career in Hollywood in the late 1920s during the silents. He became typecast as a western hero and came to Monogram Pictures in 1943, and he would remain there about ten years and 50+ sagebrush features.
In addition to westerns starring the likes of Johnny Mack Brown, Jimmy Wakely, Whip Wilson and others, Monogram also had several non-western programmer series during this period. Their two most remembered are the East Side Kids/Bowery Boys comedies, and the later Charlie Chan series, initially starring Sidney Toler and later, Roland Winters. (Monogram had taken over the Chan series from 20th Century Fox.)
Visit Chuck Anderson's Old Corral website... dedicated to the B movie cowboys and cowgirls of the 1930s and 1940s.
---
Back to Bill Kennedy
Jim Rees