Michigan Avenue, Canton to Detroit
Please read my license notice before copying my photos.

Driving directions from Ann Arbor to downtown Detroit. Part 2, Canton to Detroit.

On the way into Wayne look for the Ford truck plant on your right. It sits on the site of the old Wayne Drive-In movie theater. In downtown Wayne go see a movie at the State Theater.

In Westland stop at American Hotel Motel Liquidators and buy a tacky birthday present for someone you love. They have floor ashtrays, ceramic tigers, ice buckets, a wall of TVs, lamps, furniture, and more.

When you get to Inkster look for the unique A-frame donut shop on your left. There was one just like it in Ann Arbor until about 1990, when preservationists lost their fight with the city and the owners were compelled to tear it down.

The Donut Mill in Westborn (west Dearborn) has the World's Finest Coffee. Not to be confused with the World's Best Coffee or Best Coffee In The World, claims made by other Michigan Avenue donut shops. The Donut Mill is open 24 hours, as is the Yum-Yum Tasty Donut just over the city line in Detroit.

As long as you're stopping at Yum-Yum, turn left on Wyoming and stop in for a movie at the Ford-Wyoming Drive-In. This is the only remaining drive-in in southeast Michigan, and the biggest in the country, with nine screens.

Another fine old theater is the Senate, on the left near Livernois. It no longer has projectors but it does have a restored theater organ. Before the show, or on your way back to Ann Arbor late at night, stop at the nearby Telway hamburger stand. It's open all night and you can get several burgers for a dollar.

On your right as you near Briggs Field is the abandoned and looted Michigan Central train station. Turn right here on Vernor to get to Mexican Town. Amtrak now stops at a trailer home in the New Center area.

As you near downtown, at the corner of Washington, you'll see the abandoned Book-Cadillac Hotel on your left. This was once the finest hotel in town. A block later on your right is Lafayette Coney, a good place for a late night snack or beer.

Turn right on Woodward. Stop when you find a big steel fist in your face.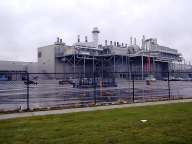 Ford truck plant.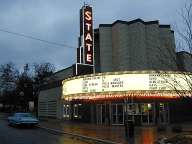 State Theater, Wayne.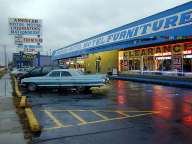 American Hotel Motel Liquidators.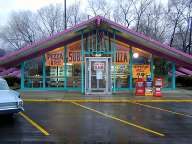 A-frame donut shop.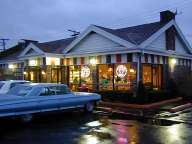 Donut Mill.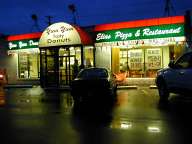 Yum-Yum Tasty Donut.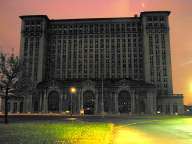 Michigan Central train station.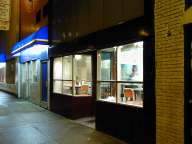 Lafayette Coney.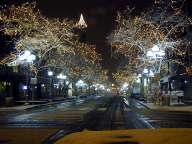 A snowy return to Ann Arbor.
Text and most photos December, 1999.
Back to Part 1.

Back to Travel and Culture.
Jim Rees